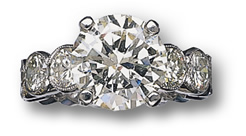 Custom Platinum Engagement Rings and Custom Gold Original Settings
Quality Gems and Certified Diamonds
Yellow Diamonds
Choosing a ring that will last a lifetime means choosing the right ring the first time. Let our jewelry experts help you pick a ring that will bring your loved one years of admiration and pleasure.
We also have an Exclusive License in the United States for Royal Windsor Settings from the Jeweler to the Queen:
The Lady Diana "Lady Di" Ring setting
Read Our Introduction to Choosing a Diamond by Grading and Quality
Quality diamonds increase in value over time. It is important when selecting a diamond that you choose wisely. On this site we offer a brief introduction to the terminology of diamond selection, and we help you understand the basic factors which determine a diamond's intrinsic worth. A large diamond may be inherently less valuable than a smaller one which is clear and flawless. The grading scale includes such factors as color of the diamond, its quality, its cut, its size and setting. When selecting a ring you will cherish for a lifetime, we at Joden World Resources are here to help you choose a diamond which will bring you years of pleasure, happiness, and satisfaction.
What Clients' Say About Our Services
Joe
Oh! My Gosh!
I had to take a break of the steady stream of people coming into my office to see THE ROCK. I cannot tell you how pleased I am and was last night when Michael presented me with the ring. It came out spectacular! The remarks received from the ring sounds like the Fireworks on the 4th of July.

Thank you and your staff for a moment in time I will remember forever. This ring will continually remind me of such good care received coupled with such a warm relationship received from Joden.
We will keep in touch!

Beverly
- Michigan

-----------------------------


We just wanted to send an e-mail to thank you for the time you spent with us on Friday afternoon, March 19th, 2010. We had no idea what a wealth of information and history awaited us before we came to Joden that day. I was the art teacher who made the purchase of the Norwegian guilloche enamel pin that featured a caribou in an arctic landscape. I have been trying to research this pin's origin and to date I believe it was indeed Norwegian (Ivar T. Holt [Holth] A/S) who registered in Oslo in 1953. The maker's mark on the pin -- a simple letter H inside a circle -- is the one used by Holt. You were a fascinating raconteur and provided much knowledge for further research which I hope to continue. My wife and I were talking about our visit for days after and were thrilled to hold and examine up close such remarkable pieces that you shared with us. We look forward to visiting Joden again on one of our next trips to Grove City.

BZ & RZ
Site Sponsored by Joden World Resources II
---
Joden World Resources
144 South Broad Street
Grove City, PA 16127
800-747-7552
724-458-0928 [f]